About BSSITM:
BSSITM (Babu Sunder Singh Institute of Technology & Management) is a premier educational institution dedicated to providing high-quality technical education to aspiring students. Located in a picturesque campus, BSSITM offers a wide range of courses in engineering, management, and technology. With a focus on innovation and research, BSSITM aims to nurture the next generation of professionals who will contribute to the growth and development of our nation.
Institutions Innovation Council (IIC):
The Institutions Innovation Council at BSSITM is a dynamic platform that encourages and supports innovation, entrepreneurship, and creative thinking among students and faculty members. Our goal is to foster a culture of innovation and provide the necessary resources, mentorship, and opportunities for students to convert their ideas into reality. The IIC acts as a catalyst, bridging the gap between academia and industry, and creating an ecosystem conducive to innovation and entrepreneurial activities.
Key Features of Institutions Innovation Council at BSSITM:
Innovation Programs: We organize various innovation programs such as hackathons, idea competitions, design thinking workshops, and innovation challenges to ignite the creative spark within students. These programs encourage out-of-the-box thinking, problem-solving skills, and teamwork.
Incubation Center: Our Incubation Center provides a nurturing environment for budding entrepreneurs to turn their ideas into viable businesses. We offer mentorship, networking opportunities, infrastructure support, and access to funding agencies, enabling students to launch successful startups.
Industry Collaboration: We collaborate with leading industries, startups, and research organizations to provide students with exposure to real-world problems and opportunities. Through internships, industry-sponsored projects, and guest lectures, students gain valuable insights into industry trends and requirements.
Research and Development: The IIC encourages and supports research and development activities among students and faculty members. We provide funding, laboratory facilities, and guidance to undertake innovative research projects that have the potential for societal impact.
Workshops and Seminars: We regularly organize workshops, seminars, and expert talks on emerging technologies, innovation trends, and entrepreneurship. These events provide a platform for students to interact with industry experts and gain insights into the latest developments in their respective fields.
Networking and Collaboration: The IIC fosters a strong network of innovators, entrepreneurs, and industry professionals. We organize networking events, mentoring sessions, and collaborative initiatives to facilitate knowledge sharing, partnerships, and interdisciplinary collaborations.
Skill Development: Along with fostering innovation, the IIC focuses on enhancing students' skills through various skill development programs. These programs cover areas such as communication skills, leadership, critical thinking, and problem-solving, enabling students to become well-rounded professionals.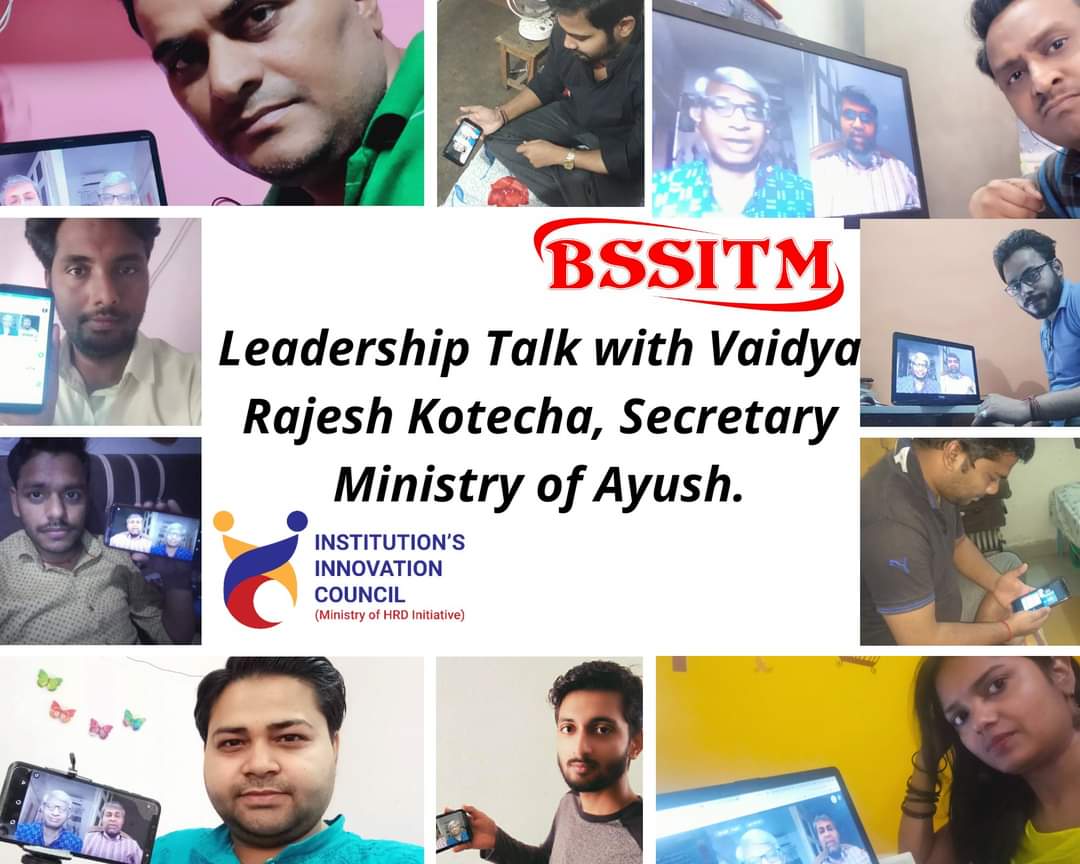 "Join Institutions Innovation Council at BSSITM and embark on a transformative journey where innovation and creativity thrive. Discover your potential, shape your ideas, and make a positive impact on society through innovation and entrepreneurship."